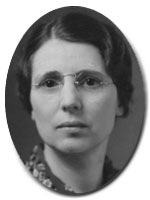 Lemo Rockwood (1896 - 1982), best known at Cornell for her popular yet controversial marriage course, was an authority on child development and family relationships. After graduating from the University of Nebraska in 1919, she received her M.S. from Teachers College, Columbia University in 1926. From 1925 to 1929, she worked in the emerging academic field of child welfare at the Lewis Institute in Chicago (now the Illinois Institute of Technology). In 1929, under a fellowship financed by the Laura S. Rockefeller Foundation to stimulate scientific research in child development, she came to Cornell University for doctoral studies.

After receiving her Cornell Ph.D. in 1931, Rockwood left Ithaca for Washington, D. C., where she became a field worker in child development and parent education for the American Home Economics Association. In l935, with experience in the field, Rockwood returned to Cornell as the family life extension specialist. Two years later, she became a member of the resident teaching staff at Cornell and established courses in family relationships, personality development and marriage. Rockwood was the author of several books, all of which were used nationally in extension work: Living Together in the Family (1935), Teaching Family Relationships in the High School (1935), and Youth, Marriage and Parenthood (1945), a systematic study of the attitudes of several hundred Cornell juniors and seniors on sex education, pre-marital behavior, expectations of the marriage partner, working wives and family size.

Professor Rockwood was a member of numerous honor societies including Phi Beta Kappa, Phi Kappa Phi, Omicron Nu and Pi Lambda Theta. She also was involved with professional societies such as the American Home Economics Association, the American Sociological Society, the Society for Research in Child Development, the National Conference of Family Relations, the National Conference of Parent Education, the Progressive Education Association, and the American Association of University Women. Upon her retirement in 1958, she and her husband returned to Nebraska, where she remained until her death on December 16, 1982.