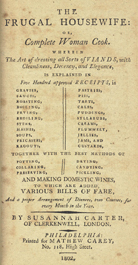 The Frugal Housewife



The first cookbooks published in America were reprinted from English works. Susannah Carter's The Frugal Housewife, originally published in London, was one of the first cookbooks printed in America. Her work features a full alphabetical index for more than 500 recipes, providing a fascinating snapshot of mid-18th century Anglo-American culinary practice.


Carter, Susannah. The Frugal Housewife, or, Complete Woman Cook: Wherein the art of Dressing all Sorts of Viands, with Cleanliness, Decency, and Elegance, is Explained in Five Hundred Approved Receipts. Philadelphia: Printed for Mathew Carey, 1802.


Copyright © 2002 Division of Rare & Manuscript Collections
2B Carl A. Kroch Library, Cornell University, Ithaca, NY, 14853
Phone Number: (607) 255-3530. Fax Number: (607) 255-9524
For reference questions, send mail to: rareref@cornell.edu
If you have questions or comments about the site, send mail to: webmaster.