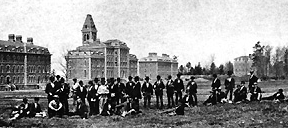 The new architecture program was immediately popular. In 1873 twenty-one students registered; by 1876 there were thirty-two. Enrollment dropped around 1880, reflecting the decrease in attendance in the university as a whole, but then continued to rise. During the early years, the American Architect and Building News published four student projects, all Gothic Revival churches.

In 1881 Charles Francis Osborne arrived as instructor in architectural drawing, the second appointment in Architecture. Osborne had studied with Calvert Vaux, whose pattern book Villas and Cottages was the source for several Cornell faculty houses. Osborne also served as the architect for Cornell buildings, including East Sibley Hall, Morse Hall (demolished in 1954), James Law Hall (on the site of the current ILR buildings), and the Dairy Building (now the north wing of Goldwin Smith Hall).

In the early years, classes were held in Sibley and McGraw Halls and an unheated wooden laboratory building. In 1889 Architecture and Civil Engineering moved to the newly constructed Lincoln Hall, but as early as 1896 President Jacob Gould Schurman recognized that the College of Architecture needed a separate home, and urged donors to consider the gift of a building "illustrating the architect's ideal."

In 1894 the College raised its entrance requirements. While this reduced the number of students admitted, it improved their caliber. Major curriculum changes became possible, which emphasized artistic skill and talent. When the Department was reorganized in 1896 as the College of Architecture, Charles Babcock was appointed dean and director. He retired a year later, but remained in Ithaca, actively interested in architectural affairs, until his death in 1913.