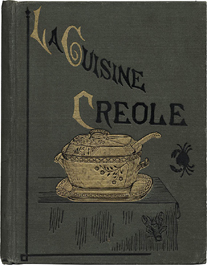 French Chefs Arrive in America



From the early 19th century, New Orleans has enjoyed a reputation as one of the best restaurant cities in the country. The French colonial past of the region shaped its food culture, as did the importation of many chefs who sought work in America after the French Revolution. Long before the rest of America discovered the pleasures of French food, New Orleans offered a sophisticated cuisine not found anywhere else in the country.


La Cuisine Creole. A Collection of Culinary Recipes from Leading Chefs and Noted Creole Housewives, Who Have Made New Orleans Famous for its Cuisine. New York, W. H. Coleman [1885].



Copyright © 2002 Division of Rare & Manuscript Collections
2B Carl A. Kroch Library, Cornell University, Ithaca, NY, 14853
Phone Number: (607) 255-3530. Fax Number: (607) 255-9524
For reference questions, send mail to: rareref@cornell.edu
If you have questions or comments about the site, send mail to: webmaster.