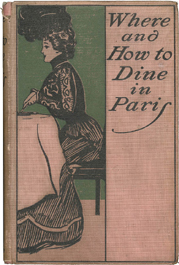 A Guide for the English & American Tourist


Early handbooks directing tourists to the finest eateries of Paris testify to the internationally recognized status of French food. This book passes over Paris's history and art treasures to focus on its restaurants. As the author wryly points out in the introduction, "Paris, needless to say, has her profoundly serious side of life, her miseries, and tragedies; but to dwell upon these is not an aid to digestion."


Rowland Strong. Where and How to Dine in Paris, with Notes on Paris Hotels, Waiters and Their Tips... London: G. Richards, 1900.



Copyright © 2002 Division of Rare & Manuscript Collections
2B Carl A. Kroch Library, Cornell University, Ithaca, NY, 14853
Phone Number: (607) 255-3530. Fax Number: (607) 255-9524
For reference questions, send mail to: rareref@cornell.edu
If you have questions or comments about the site, send mail to: webmaster.